Steel Handrails in Illinois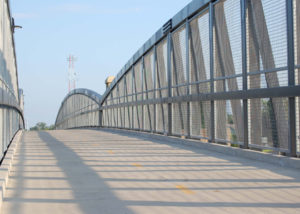 When you need a manufacturer with years of steel fabrication experience, you can rely on TITAN Industries, Inc. We have affordable, durable, and versatile steel handrails for your commercial, industrial, and residential applications. Handrails are often required for compliance with all state and federal construction regulations. Make sure you choose a company that can provide you with a quality product that is to spec. Contact TITAN Industries, Inc. for pricing or scheduling information. Call (309) 440-1010 today!
Commercial Handrails
Handrails serve an important safety role in commercial buildings. When it comes to commercial handrails, you have countless options. Choose from strong, durable galvanized steel, powder-coated, and clear-coated options in a variety of finishes. No matter if you need ten or 10,000 units, our team at TITAN Industries can help you choose the right commercial handrails for your project.
Industrial Handrails
To keep your employees and visitors safe is to install strong industrial handrails. The peace of mind knowing you have received a quality product comes with choosing a company with an exceptional reputation. By having the right safety equipment installed, you minimize your legal risk and increase safety and effectiveness. TITAN Industries, Inc. is a leader in the steel handrail industry. Let us assist you in providing long-lasting and durable industrial handrails.
Residential Handrails
When you have stairs or a disabled bathroom, you need strong handrails for your home. TITAN Industries can assist you in choosing the right residential steel handrails to make your home more accessible for all your family members. We can match your residential steel handrails with any design or aesthetic you have in your home to seamlessly blend style and functionality.
When you are looking for steel gates in Illinois, Contact TITAN Industries, Inc. Call (309) 440-1010 for pricing information today!