Steel Gates in Illinois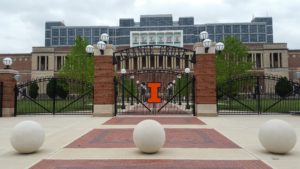 Steel is an attractive, affordable, and versatile option for commercial, industrial, and residential gating. TITAN Industries, Inc. offers several options for our clients in securing your properties. When you need to protect your most valuable assets, you want to choose a strong, durable material that will be able to withstand enormous force. Our steel security gates are great for a wide variety of applications. Let our team assist you in navigating through our different options and matching you with the perfect steel gate. For pricing or scheduling information regarding our steel gates, Contact our office at (309) 440-1010 today!
Commercial Gates
Many businesses in the Illinois area need a protective steel gate to prevent unauthorized access and prevent damage or theft. TITAN has a wide range of security gates, access control gates, and loss prevention gates that serve as a deterrent and active barrier to those looking to threaten your business. We can tailor our steel gates to your needs.
Industrial Gates
Steel is the material of choice when it comes to industrial docks and gates due to its strength and flexibility in design. No two large companies are alike, each having their own unique requirements. Our steel gate experts are happy to sit down with you to achieve the functionality and security you need to get out of your industrial steel gate.
Residential Gates
Steel is widely used in residential gate applications in addition to commercial and industrial use. These attractive and decorative gates also serve as a great security option for those looking to increase safety around their property, while maintaining integrity for the outside aesthetic of their home. TITAN Industries is happy to walk you through our residential steel gate options. 
When you are looking for steel gates in Illinois, Contact TITAN Industries, Inc. Call (309) 440-1010 for pricing information today!