Steel Columns Fabricator in Illinois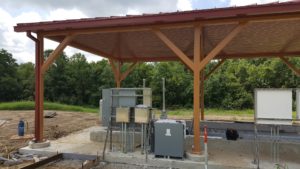 Steel is one of the most popular and versatile building materials on the market. Commercial builders are drawn to steel columns due to its strength, exceptional durability, and cost effectiveness. When you are leading a commercial building project for your organization, you need a steel manufacturer and fabricator with the same professional mindset. TITAN Industries, Inc. has years of experience in assisting large corporations achieve their construction projects. For pricing or scheduling information, contact our office at (309) 440-1010. One of our knowledgeable team members is happy to assist you.
Steel Column Characteristics
Steel is still primarily the material of choice for industrial and commercial applications. This is largely due to steel's exceptional characteristics, which allow for versatility in design. Some other additional positive performance factors of steel columns are as follows:
Meets strict vibration and acoustic performance

Sustainable and multi-recyclable construction material

Safe material for construction contractors due to off-site fabrication

Waste-free assembly due to fabrication of tight tolerances before delivery
Are you interested in taking advantage of all the great benefits steel columns offer you in your commercial application? Call (309) 440-1010 to talk to one of our experienced fabrication specialists. 
Why Choose TITAN Industries?
TITAN Industries, Inc. takes pride in assisting our clients with achieving their commercial construction goals by providing high quality materials on time and on budget. We understand the needs of large companies and will strive to anticipate your needs and preemptively prevent any challenges that may arise. No project is too large or small for our fabrication team. Let us know what you need and we will exceed your expectations. 
If you need a steel columns fabricator in Illinois, Contact TITAN Industries, Inc. Call (309) 440-1010 for more information about our services.